WHAT YOU WILL GET
( From 1.5K Budget Home Gym Package)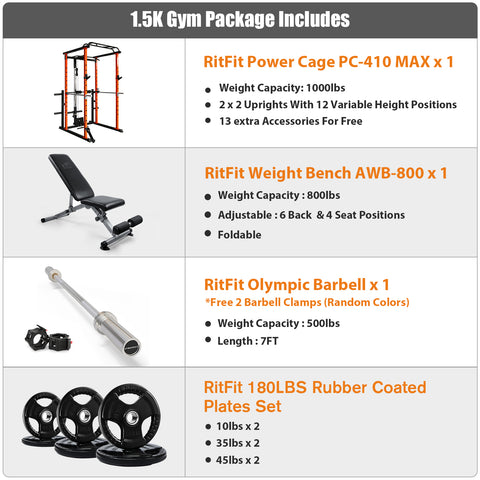 This 1.5K Budget Home Gym Package has been a hot choice and combination among the RitFit community. The 1.5K budget home gym package includes our multi-functional power cage, adjustable weight bench, 7FT weightlifting bar, and 3 pairs of our popular rubber-coated barbell plates! Please visit their individual pages for more detailed specs on the bars, plates, and cages.
POWER CAGE DETAILS
 ( Included In the 1.5K Budget Home Gym Package)
MULTI-GRIPS PULL BAR
A beam with multiple grip positions gives you extra possibilities for pull-ups and chin-ups.
LAT PULL DOWN BAR
Designed for building a strong back, increase forearm wrist and grip strength, improve endurance and explosiveness.
SANDWICH J-HOOKS
Made of high-grade steel, which hold up to 1000lbs. Rubber liners profect the bar rod and absorb noise of dropping.
PIPE SAFETIES&LEG PRESS
Engineered to take the force from drops and provide a safe lifting environment. Secure every rep of your heavy training.
PULLEY SYSTEM
High-quality pulley system with high tensile strength cables offer you a smoother training experience.
ATTACHABLE DIP BARS
Rubber and textured pattern surface assist you in maintaining a stable grip. Great for strengthening your muscles.
QUICK-LOAD PLATE STORAGE
2 plates storage uprights with 4 loadble sleeves hold up to 600lbs. Sleeves are suitable for both 2'' and 1'' hole plates.
LANDMINE & T-BAR
A set of landmine platforms and T bar handle come with this rack. The openings fit both 1'' and 2'' bar.