DESCRIPTION
Available in 10 weight increments for gradual progression (from 2 LB up to 20 LB), the RitFit Solid Rubber Medicine Balls are available to enhance your workout routine by developing core strength and improving coordination, balance, and endurance by doing simple, fun exercises.
Examples of exercises that can be enhanced with solid rubber medicine balls include sit-ups, squats, lunges, and overhead presses. When working with a partner, you can do chest passes, overhead passes, and abdominal work through rotation variations. Med balls can also be used for athletic training by enhancing cardiovascular endurance, increasing muscle mass, and improving hand-eye coordination. 

You can use RitFit Solid Rubber Medicine Balls with more new training movements, including ball slams with the convenient bounceback, throws against a wall for building the strength of total body, and also rehabilitation. It's ideal for strength training, core work, and body conditioning. 
Durable high-quality rubber shell
Great for flexibility and movement exercises.
Great for warm-up and cool-down exercises, sports therapy
Built to bounce off of hard surfaces
Available in color-coded weights from 6 lb. to 20 lb.
DURABLE CONSTRUCTION
RitFit Solid Rubber Medicine Balls are made from durable rubber and single-textured to help develop core strength and improve coordination, balance, and endurance by doing simple, fun exercises.
SMOOTH GRIP
Made of durable, high-quality rubber, the Ritfit Solid Rubber Medicine Balls are textured with a comfortable easy-made to help in throwing, slamming, and catching - even when sweaty.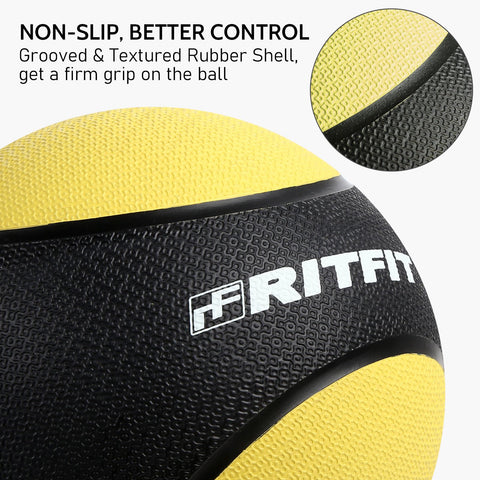 FULL BODY WORKOUT
You can use this solid rubber medicine ball for overhead lunges, push-ups, bear crawls, Russian twists, squat throws, thrusters, air squats, sit-ups, and more! It's a great muscle toner and strengthener, and you'll love how it improves your athletic life.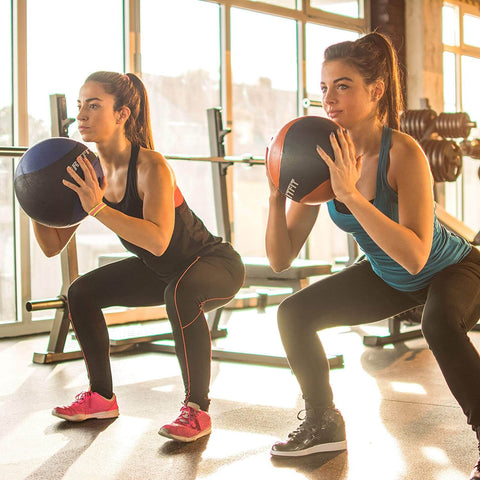 COLOR-CODED WEIGHTS
The Solid Rubber Medicine balls come in a variety of color-coded weight increments (6 to 20lbs.), but with little fluctuation in diameter, maintaining consistency in feel as you move up to higher weights.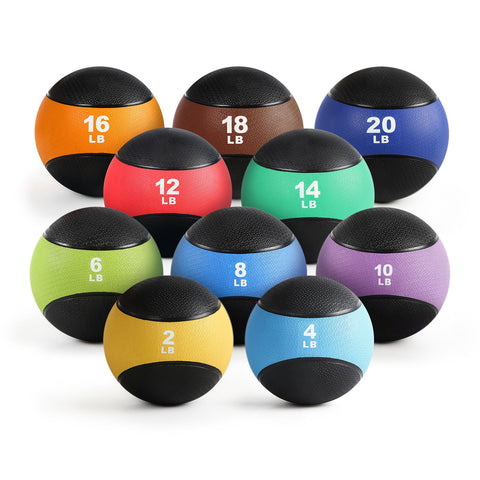 SPECIFICATIONS
Weight
Color
Diameter

6

LBS

Grass Green
9''

8

LBS

Lake Blue

9''

10

LBS

Lavender

9''

12

LBS

Red
11.3''

14

LBS

Mint Green

11.3''

16

LBS

Orange

11.3''

18

LBS

Brown

11.3''

20LBS

Cyan


11.3''


Looking for soft leather medicine wall balls?
👉 FREE MEDICINE BALL WORKOUT POSTER: HERE