Expand Your Options: Explore PPC03 Packages to Make Your Choices More Diverse!
RitFit Cable Crossover Machine for sale.
RitFit Cable Crossover Machine features weight stacks, pulley systems, cable attachments, and more. The cable crossover machine is a type of functional trainer/chest fly machine, it's fantastic for full-body workouts and overall functional fitness.
The cable crossover machine features a limitless number of exercises due to the versatility of its pulleys and unrestricted multiple planes of motion. It allows you to work on more body parts in less time and allows many more muscle groups and muscle variation throughout workouts. This cable crossover machine reduces the need for additional equipment saving you space, time and money.
This powerful Cable Crossover Machine is designed to give you a dynamic upper-body workout, targeting your arms, shoulders, and core. As you consistently use this cable crossover machine, you will notice a positive change in a whole host of muscles, including your pectorals, abs, deltoids, triceps, biceps, and obliques. Our cable crossover machine features high-quality pulleys and cables that are intended for maximum strength and capacity. This cable crossover machine gives you the option to work out and exercise from home instead of the gym. Its size makes it perfect for a personal gym or a garage.
COMPACT 3-IN-1 HOME GYM MACHINE

With a 16 sqft footprint, RitFit PPC03 Cable Crossover Machine is perfect for a compact home gym. The power rack comes with 12 extra accessories, integrating the functions of the Squat Rack, Cable Crossover Machine, and Weight Storage Rack into one. Due to the versatility, you could do a total body exercise at home, such as Cable Flys, LAT Pulldown, Landmine Movements, Rows, Squats, Bench Press, Dead-lifts, Bicep Curls, Tricep Extensions, Pull-ups, Chin-ups, and more.
BUILT TO LAST

Made of a heavy-duty 2''x2" steel square frame, RitFit PPC03 Cable Crossover Machine is very strong with a max capacity of 1000 lbs. With nylon-coated cable and great-quality pulleys, the cable pulley system offers an extremely smooth workout experience. The dual stirrup handles with a rolling bear design can easily adjust to 15 height positions to meet different exercise needs. The weight plate carriage sleeves with a 5°Incline design can prevent the weight plates from dropping and fit both 1-inch & 2-inch plates.
DETAILS
MULTI-GRIPS PULLUP BAR(x1)
A beam with multiple grip positions gives you extra possibilities for pull-ups and chin-ups.
CABLE SYSTEM
A high-quality pulley system with high-tensile strength cables offers you a smoother training experience.
J-HOOK(x2)
High-grade steel inside, and rubber liners outside protect the bar rod and absorb the noise of dropping, holding up to 1000 lbs.
CABLE HANDLE(x2)
Engineered to take the force from drops and provide a safe lifting environment. Secure every rep of your heavy training.
PLATE HOLDER RACK(x2)
2 Uprights with 1 loadable sleeve on each side can support up to 330 lbs.
360 LANDMINE(x1)
The base is a full 360-degree swivel, the openings fit both 1'' and 2'' bars.
PLATE STORAGE TUBE(x2)
The removable 5-degree incline tube holds up to 500 lbs for each holder.
SAFETY SPOTTER ARM(x2)
The detachable tubes are sturdy and long to secure your safety.
SPECS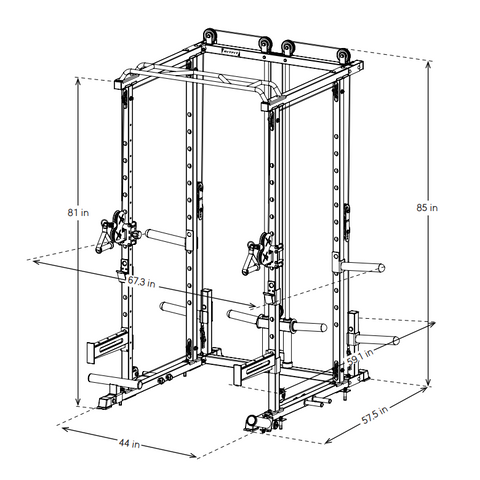 | | |
| --- | --- |
| MODEL NO. | PPC03 (PC-410 CC originally) |
| WEIGHT | 193.6 lbs |
| FOOTPRINT | 17.57 sqft |
| HEIGHT | 85'' |
| PULLEY RATIO | 2:1 |
| PULLEY CAPACITY | 400 lbs |
| LOAD CAPACITY | 400 lbs |
| J-HOOK CAPACITY | 1000 lbs |
| PLATE HOLDER CAPACITY | 165 lbs (Each) |
| HOLE | 1'' |
| WARRANTY | 3-year warranty on the frame, 1-year on parts |
| BONUS | Free Workout Poster |
WARRANTY: 3-year warranty on the frame, 1-year on parts.