How Much Should You Be Able to Bench ( Guide 2021 )
It is a truth universally acknowledged that strength is size. Bench press, hailed as one of the most effective ways of gaining upper body strength, has become prevalent among fitness enthusiasts. Novice lifters, and elite athletes alike, try to lift heavier to get close to those with rippling muscles on the ads. But the more is not necessarily better. Forcing yourself to do heavy lifting beyond your limit could backfire. Therefore, knowing how much you're able to bench can clear the way for building muscles effectively with proper form.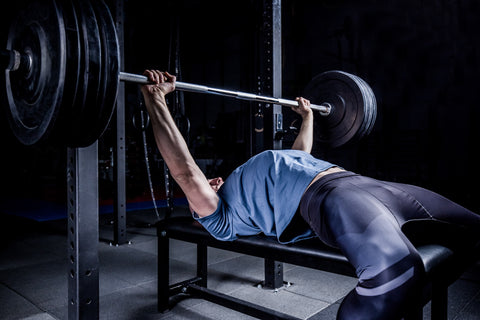 This article will delve a little bit more into the following three main questions you have:
How much should I be able to 

bench

?
What is the average bench press by age?
What is my one-rep max?
Now let's dive in.
1. How Much Should I Be Able to Bench?
While gauging how much you should be able to bench, multiple factors, with body weight, goals, gender, age, and training experience included, need to be considered. 
1.1 How much bench press for beginners?
As a beginner, you should better start light and build up your activity level gradually. It is recommended that you lower the weight (<50% of body weight), especially at your first attempt, to get used to the bench press technique and adapt your muscle tendon to the specific exercise gesture. As you gain more experience, you can add more weight. There's no need to be sorry or ashamed if you can only lift the bar in the very beginning. Constantly comparing yourself with others around you is a fast track to frustration and disappointment.
In this stage, spotters and a power cage can help improve your form and ensure your safety when you are in a tight spot. 
1.2 How much can the average man bench press ?
As of 2020, the latest data from Gallup puts the average American woman's body weight at 162  pounds, while the average male clocks in at 200 pounds (self-described weight). With that information and your stats in mind, you can then pop on over to ExRx.net official Bench Press Standards chart, which estimates the one-rep max lift for adults.
These standards allow you to compare your one-rep max lift with other lifters at your body weight but do remember, the strength standard is not the strength norm, nor does it present the highest possible level of strength performance. Instead, it is merely a rough baseline of expectation for an average healthy adult.
  Chart I. bench press standards for men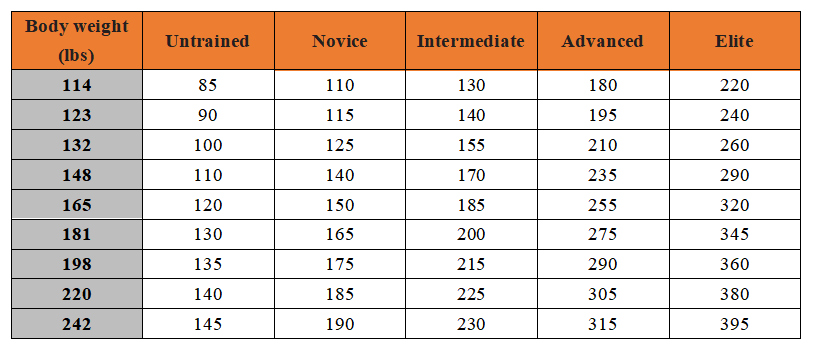 Chart II. bench press standards for women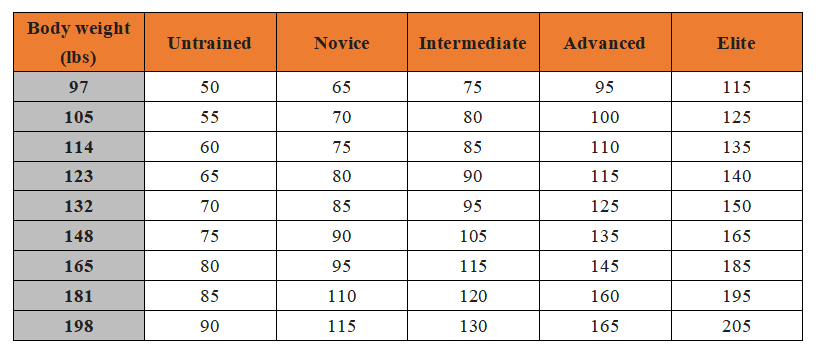 According to the chart, for a 198-pound man (close to the average American man's weight), who hasn't trained to bench press before, the standard is at 135 pounds. For the novice (has trained for several months), intermediate (has trained for several years), and advanced man lifters (has trained multiple years), the baseline is 175 pounds, 215 pounds, and 290 pounds respectively. For elite athletes (athletes that compete in strength sports), the standard is about 360 pounds, twice that of a novice lifter.
Women generally lift lighter compared with men. The average bench press standard for a 165-pound untrained woman (close to the average American woman's weight) is 80 pounds and 95 pounds for a novice lifter. An intermediate woman lifter is estimated to lift 105 pounds, while the standards for advanced and elite athletes are 145 and 185 pounds accordingly.
Don't get too bent out of shape if you fall a bit below these numbers. They're all just generalities.
2. What is the Average Bench Press by Age?
As is mentioned earlier, age also plays into how much a person should be able to bench. Your muscular strength tends to decrease when you're over 60 years old. The below chart helps break down the average bench press by age.

3. What is My One-rep Max?
In asking "How much should I be able to bench," what you really want to find out may be your One Repetition Maximum, which is the maximal weight you can lift for only one repetition with proper form.
To work out your one-rep max, you may need to take the one-rep max test, which is often considered the gold standard for assessing the strength capacity of individuals in non-laboratory environments.  
Now it's time to take the test.
  Chart IV. one-rep max test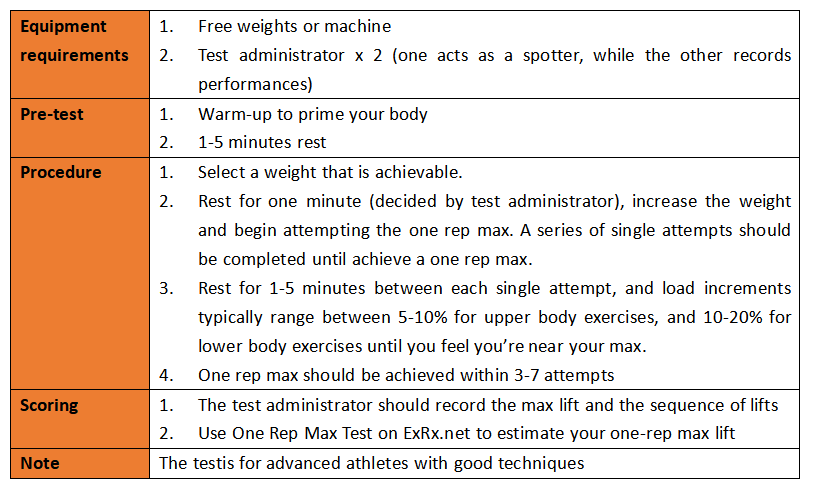 The test is regarded as a valid and reliable measure of performance. It can help
Assess your strength capacity
Test whether you have a strength imbalance
Evaluate your progress in the weight training program
All of us dream of bench pressing twice our body weight. But Rome was not built in a day. It takes time and perseverance to increase bench press gradually. Here I would like to quote Stuart Phillips, a professor of kinesiology at McMaster University, and say that consistent practice with proper form and good nutrition, and working to fatigue generate the majority of results, no matter what the load.
Bear in mind that bench pressing is by no means something to make you feel frustrated or anxious, but something that empowers you to pursue upper-body strength and incredible body shape. 
Want to get more information about RitFit sports? To enjoy bench pressing, you don't want to miss the RitFit@ fitness gears, your perfect partners for weight bench exercises ! 
2 comments