Lock It or You May Drop It with Barbell Collar
We have taken a look at a variety of elements that go into Olympic Weightlifting. As you continue to read, you may see that the financial investment into the sport is beginning to add up. With your wallet in mind, you may think that it is okay to skimp out on certain things that may seem unimportant to you.
Many people think that barbell collars are not as important as weights, shoes or the barbell itself. They then figure that any collar will work and strap it on the end of their barbell. However, these people are very wrong.Barbell Collar Buyers Guide: Lock It or You May Drop It

­
Why a Quality Barbell Collar is a MUST?
Having a loose or insecure collar can be one of the most dangerous mistakes an Olympic weightlifter can make. First of all, while you are throwing around hundreds of pounds of weight, if you do not have secure collars in place the weight can be unevenly distributed during your lifts. This can throw off your balance and increase the possibility for injury to the lifter. Not to mention that any weights that come loose during a lift are susceptible to end up flying around the gym, putting others in harms way as well. So now that you know the dangers that come from unsecure weights and the importance of a quality barbell collar, the question remains which kind you should add to your weightlifting set. This review will take a look at three different types of collars, and the pros and cons that come with each.
Spring Collars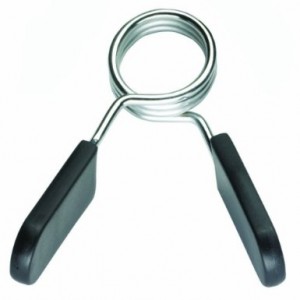 One of the most common barbell collars that you will find in gyms, and possibly in your home, are spring collars. These collars have two grips on the end that when pushed together, open the circular area on top. This allows you to slide it onto the bar easily and then release, which will tighten on the bar. I have long been a fan of spring collars. They were perfect for me in the early days when I didn't have much money to spend and needed to have something to keep my weights in place. Aside from the benefit of it being inexpensive, the circular spring pattern on the end allows for it to grip onto the ridges that are on most barbells, making for a pretty secure fit. With this in mind, there always seemed to be two negatives that I found with most spring collars. First, since they are simply springs, they do have a tendency to relax and lose strength over time. There have been many instances in my life where I will slide a spring collar on and it doesn't quite stay fit.

Secondly, comparatively to newer methods (which I'll talk about here in a bit) spring collars can be a bit of a pain to get off. Sometimes you have to wiggle them off, as they seem to get stuck on the ridges of a barbell.With these two concerns in mind, spring collars are still a decent way to go and are perfect for anyone on a budget. Just remain alert to make sure those springs don't loosen up on you over time.The beauty of spring collars is that they are so affordable, which means if you have any issues, just grab another pair.

Barbell Collar Buyers Guide: Lock It or You May Drop It

­
Clamp collars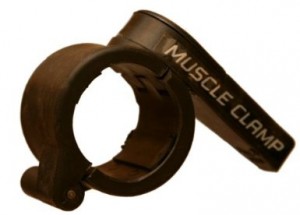 As my weightlifting has progressed and I've worked out in better conditions and gyms, I've been able to work with better barbell collars. This includes clamp collars, which I am a big fan of. These collars became more popular within the last decade or so, and are such a simple concept I can't believe they weren't around before. These clamps slide on and off relatively easily, and then the lever is flipped to either tighten or release. These clamps are strong and secure, and also very easy to put on and remove. I will say that I have seen a few clamp collars that have loosened over time, but this happens very rarely. Really the only downside to clamp collars is that they are much more expensive than other collar types. You can expect to pay a hefty price for clamp collars, but quality pairs are certainly worth it.  

­
Lock-Jaw Barbell Collars
Another, and even more recent, collar I have worked with as of late are lock-jaw barbell collars. I must say that these are the neatest looking collars available. They are free-forming and wrap around the barbell and then you can easily click the lock into place.
I will say that they aren't as easy to secure as clamp collars, but this is only a difference of a few seconds. However, once they are in place, they seem to be extremely secure and reliable. Lock-Jaw Barbell Collars are also priced around the same as clamps, so it makes that an easier (yet more expensive than springs) option. You should  plan to work with lock-jaw collars much more in the future as they are quickly becoming the standard in the weightlifting community.

­
Conclusion
Safety should be the at forefront of anyone's mind when purchasing collars for their barbell. Having a inferior collar can really put the athlete in danger and is highly discouraged. However, even if you are on a budget, you can still find quality spring collars to add to your set. But even if you begin with spring collars, consider saving the money for a more secure clamp or lock-jaw collar. It may cost you more up front, but its certainly less than a trip to the doctors office if you hurt yourself. [embed]https://www.ritfitness.com/shop/olympic-barbell-clamp/[/embed]