RitFit Collapsible Foam Roller / Trigger Point Massager is an ideal choice for stretching and massaging your muscles anywhere and anytime. It's a great collapsible foam roller, especially for lower back pain.
RitFit Collapsible Foam Roller can be used alongside most exercises, yoga, pilates, sports, cycling during business or leisure travel for an extra session of at-home physical therapy. Great birthday, anniversary present for workout enthusiast wife or fitness guru husband!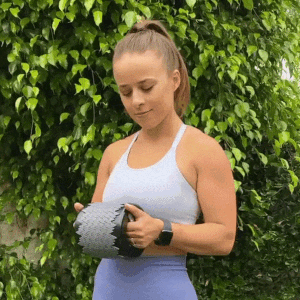 You should know the fact that our muscles will shorten and become tight without stretching or cooling down after workouts. Then, when you call on them for activity, they are weak and unable to extend well.
Regular stretching can help increase your flexibility, which is crucial for your overall health. Not only can improved flexibility helps you to perform everyday activities with relative ease, but it can also help delay the reduced mobility that can come with aging. 
Care For Your Muscles Anytime and Anywhere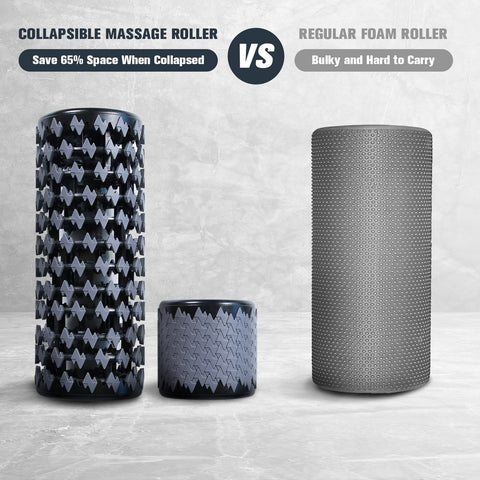 If you're looking to travel with your roller during your next race, you'll want something that fits in a standard suitcase. With RitFit Collapsible Foam Roller, you can care for your muscles wherever you go and massage them whenever you finish workouts. With this compact design, you can bring this collapsible foam roller with you to the gym, to the office, or pack it in a suitcase when traveling. 
3D Trigger Point Simulate Finger Press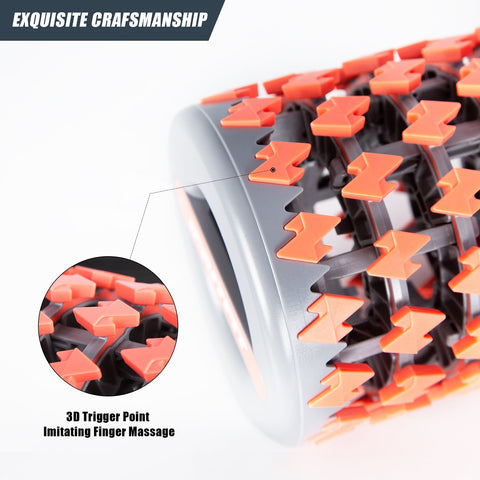 There are specially designed bumps on the surface of the collapsible foam roller, which massages the muscles of the whole body in multiple directions, increases the flexibility of the body, and relieves fatigue and pain after exercises. The trigger pads are made out of biodegradable TPE which creates the ideal amount of cushion for it to trigger deep tissue.
Interlocking Surface, Adjustable Size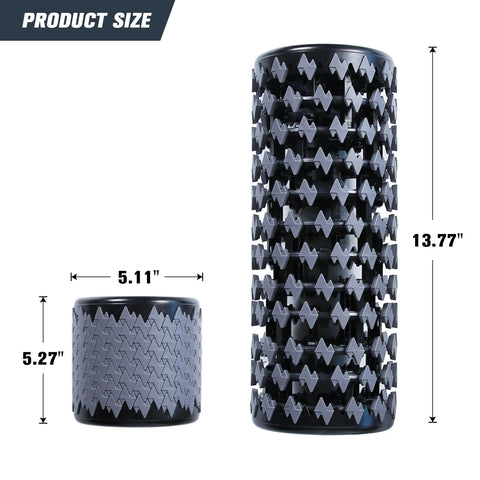 The interlocking surface smoothly expands from 5.3 inches to 13.8 inches in a snap. The collapsible foam roller does not sacrifice any quality that comes with traditional rollers. Not only do the pressure pads trigger deep tissue, but they are also made out of anti-slippery materials to make sure your exercises can be performed on any surface.
Multiple Color, Unique Present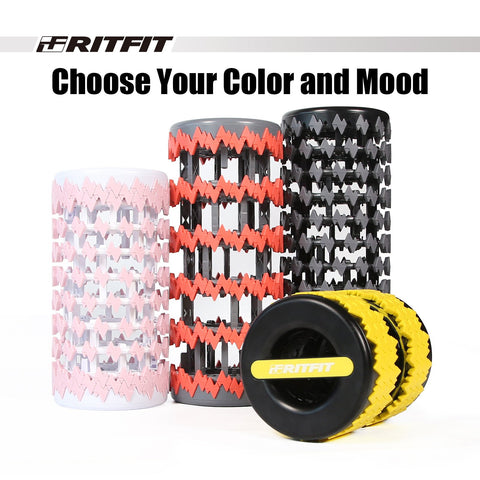 Choose your favorite color (Black, Red, Yellow, Pink) and start your journey towards a more active and ideal lifestyle! This collapsible foam roller is loved by runners, cyclists, personal trainers, swimmers, athletes, and those doing a daily fitness routine. 
SPECIFICATIONS
Product: RitFit Collapsible Foam Roller For Muscles
Materials: ABS, TPE, PC, POM

Length: 5.27''~13.77''

Diameter: 5.11''

Max Load: 220LBS